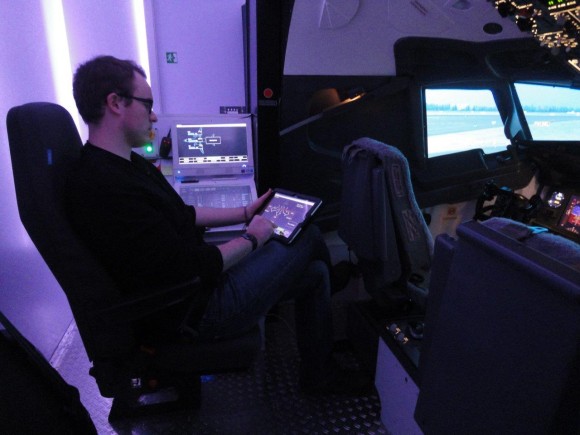 Instructor Operator Station (IOS) for Flight Simulator and Prepar3D.
This IOS is essential for effective training. It is full of features that provide a rich array of instructor controls.
It manages any aircraft (Airbus, Cessna, Boeing…).
Compatible with PROSIM737/A320, Project Magenta and all standard aircrafts.
You can use a PC or a Windows tablet PC
With a touchscreen you don't need keyboard or mouse. All features are easily accessible with one finger.
We have one FS INSTRUCTOR version but three different licenses:
FS Instructor 4 PRO is for integrator and commercial use.
FS Instructor 4 EDU is for academic use (for univeristy selling or renting nothing).
FS Instructor 4 HOME for home buidler users.
Resellers, please contact us.
LIST OF FEATURES
MAP (MOVING)
Show airports data, navaid, taxiways, parking/gate…


---

FAILURES
Standard: Create you own failures for your aircraft (based on FSUIPC variables) and trigger conditions.

If you own PROSIM 737, you have access to the complete failure list.


---

POSITION
Move your aircraft to your own location, on a pattern, in flight, on approach, on the runway, on a stand or a previous recorded situation.


---

APPROACH GRAPH
Follow in real-time the glide/loc (even if the runway doesn't own a LOC or ILS systems).


---

COMPUTERS
Manage remote machines and start/stop one/several process(es). Control up to 10 computers. Restart/stop your whole cabin with one button.


---

ENVIRONMENT
Weather settings (simple or expert settings), Time and Traffic control.


---

FUEL
To manage the different tanks


---
Helicopter features
Support Heli backgrounds and helipads.


---

PUSHBACK
The instructor controls the pushback


---

WEIGHT/PAYLOAD
Current aircraft weight. Change the payload elements (pilot, first class, baggage). This station list is dynamic and depends on the current aircraft used.


---

AIRCRAFT INFO
monitors aircraft attitude and events (drags, radio…).


---

BLACK BOX
Record each flight in one CSV file and one Google Earth Flight profile.


---

PROSIM and PROJECT MAGENTA FMS Information


---

GOOGLE EARTH TRACKING
Follow the aircraft in a real time. Display VOR, ILS…


---

DEBRIEFING GRAPHS
show pilot performance


---

PRINT messages as an ACARS
This module manages an USB thermal printer (pedestal)

---
For Iphone / Androïd: open a remote session from your IPhone or Androïd to your FS Instructor PC instance. You need to buy a dedicated software like Air Display.

Options:
– You need a special feature
– You want to modify the application look
– Remote installation by our experts
– Special support (7/7, remote assistance)
-A FS instructor plugin to manage cabin access from RFID badge (ask optional tariff). Users need a card and use it to unlock the cockpit (thank to a RFID USB READER). It decreases a token amount from the card depending on session time.
Contact us to receive a demo version or the handbook
WHAT'S NEW – July 2023

Check Screen Layout is available in our webshop.

This software checks, that each monitor has the same resolution and location than what it has been previously recorded.

If not, it can prevent the start sequence of your sim using Soft launcher.

Free for home and if you don't earn money with your devices. Pay version in any other case.

Products

Facebook

Follow us