Description
Actual version : V3.3 (June 2016)
You have difficulties to pilot the aircraft on ground? To follow the taxiway centerline?
During approach with cross wind, rudder pedals are not efficient enough to maintain lining up with the runway?
Ruder/Steering tiller management is made for you.
Features
This software manages your rudder pedals, foot brakes and steering connected on one or several joystick controllers.
For Prepar3D and FSX, Steering and rudders are linked to the same input. The result is not correct because of conflicts between the steering and the rudders.
Our software fixes this issue.
We also are able to manage foot brake from Captain and First Officer without any conflict.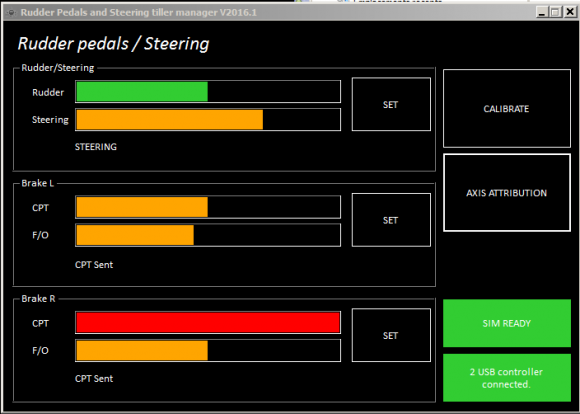 Rules included in our soft:
Steering sends values only on ground. If you move it during flight, it has no effect.
If pilots move at the same time steering and rudder pedals, the steering wins.
You can manage by yourself null zone and course of each axis.
Sensitivity rudder algorithm depends on flight phase:

We gave a better sensitivity during taxi. The rudder pedals are very fine for an easy taxy.
Full deflection during take-off, land and flight. It allows controlling high cross-winds or one engine failed
Write a FSUIPC offset when you apply both foot brakes. You can use this variable to SET or RELEASE a motorized parking brake (like a Boeing true TQ)
The package
This offer includes:
The software with all future updates.
Installation and setting by remote assistance. Limited to 1 hour. You need :

To have set all prerequisites (.NET)
To have or install a remote software
Internet access to your computer

Setting as automatic startup
Prerequisites
Microsoft Flight Simulator FS2004, FSX™, ESP™ or Lockheed Martin Prepa3D
Windows XP, Vista, Win 7, Win 8, Win 10
.NET Framework 3.5
Peter Dowson's FSUIPC registered version (4.9 and higher).
For a remote use: WideFS (6.9 and higher)
If you need a simconnect support to replace FSUIPC? Ask us our specific version.
Compatibility
Our software supports all rudders interface connected on  joystick controllers. Non-exhaustive list:
Opencockpit rudders
Revolution-Simproducts rudders (version with USB joystick),
Saitek Rudders,
Flightdeck SolutionsRudder Pedals based on FDS-FC1 Controller,
Your own rudders made with a joystick controller (HID) recognizes by Windows like :

Universal Joystick Controller from Leo Bodnar
USBAxles card from Opencockpit

TQ: support of the motorized parking brake on TQ from Cockpit For You V3 and Revolution-simproducts.
Note: If you plug these rudders on the same PC than FS/Prepar3D we advice to deactivate the axles attribution into the flight simulator.
Hardware configuration support
You can managed several configurations:
One rudder (3 axes)

Two rudders with a dual Linked Flight Rudder Pedals (5 axes)
With a Steering wheel (+1 axe)
MORE
This software is fully compatible with Revolution-Simproducts TQ motorized and Cockpit For you. It sends a specific offset when both brakes are applied. It allows unlocking parking brake TQ motor.
You need more ? Ask us…